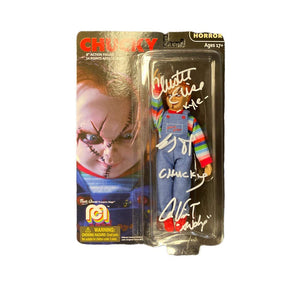 Brad Dourif, Alex Vincent & Christine Elise Triple Autographed Child's Play Mego Figure
Child's Play Chucky Mego figure autographed by horror legend Brad Dourif, who is best known to fans for portraying Charles Lee Ray (also the Voice of Chucky) in the Child's Play franchise, Alex Vincent (Andy) & Christine Elise (Kyle). All three are also in the current Chucky television series.

All autographed items are guaranteed to be authentic by Icon Autographs Inc. and come with a Certificate of Authentic (COA) and tamper-proof hologram.