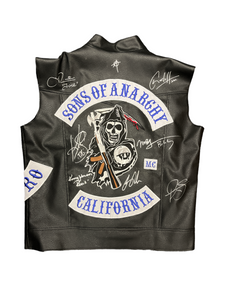 Cast Signed 7 Autographs Sons of Anarchy Motorcycle Cut/Vest SOA
For the true SOA fan! This Sons of Anarchy high quality motorcycle vest / cut is CAST AUTOGRAPHED. Own a piece of TV history.
Autographs include: Charlie Hunnam (Jax), Ron Perlman (Clay Morrow), Kim Coates (Tig Trager), Theo Rossi (Juice), Mark Boone Junior (Bobby Munson), Ryan Hurst (Opie) & Kenny Johnson (Kozik). 
Vest includes an Icon Autographs Certificate of Authenticity and tamper proof hologram.