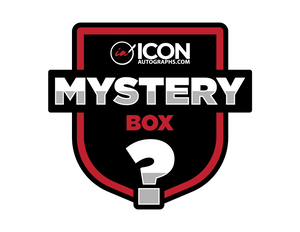 Icon Autographs Mystery Box GOLD Subscription
Icon Autographs is excited to announce our monthly Mystery Box subscription service!
Each monthly Mystery Box, which is released and mailed out during the last week of every month, will feature a theme that could Pop Culture, Horror, Wrestling, Star Wars, Harry Potter, Star Trek and so much more! You will NEVER receive a duplicate autographed 8x10 OR Funko / Figure EVER!
If you're a fan of Mystery Boxes, this is your chance to let us do the work and automatically ship directly to your door each month! You'll never miss a deal again!
Membership has its benefits. Many times, throughout the year, Mystery Boxes will feature items that are not available on the website and will be exclusive to members only! Subscribers will also have access to various promo codes throughout the year that are not made available to regular customers.
Each GOLD monthly mystery box will include:
Three (3) autographed 8x10 photos
One (1) autographed Funko, Figure or Collectible
One (surprise) non-autographed item
*Notes: mystery boxes are randomly packed by Icon Autographs staff, and will never include a duplicate autographed item as part of your subscription. Shipping on six month and yearly memberships will be charged at one time. All subscriptions automatically renew, however, you can cancel anytime.
No refunds or exchanges. Not valid with any other offer or promo code.