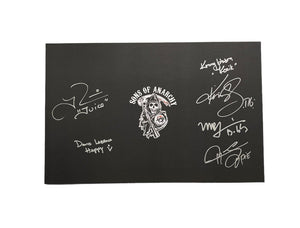 Sons of Anarchy Cast Autographed 11x17 Mini Poster SIX AUTOGRAPHS
This "project" piece is for the Sons of Anarchy fan who wants to build an epic collection of autographs! And, we started you off with some big names!
This 11x17 mini poster (hard stock) includes the Sons of Anarchy logo front and centre, with SIX (6) cast autographs including: Theo Rossi (Juan 'Juice' Ortiz), Kim Coates (Tig), Mark Boone Junior (Bobby Munson), Ryan Hurst (Opie), David LaBrava (Happy) & Kenny Johnson (Kozik). 
11x17 includes an Icon Autographs Certificate of Authenticity and tamper proof hologram.